I now measure my worst nights of sleep against nights spent on airplanes.
As in, "I've been up off and on all night with my sick baby, but at least I'm not on a 12-hour flight across the Pacific, followed by a brief layover in Tokyo and then another 6-hour flight and then a 3-hour and then 1-hour flight, holding one or two of my tired, thrashing, crying kids in a tiny airplane seat wondering if we've crossed the international dateline yet so I can forever forget that day."
Since moving to Indonesia nine years ago, I've crossed the globe several times from the States to Indonesia with some combination of my now three kids. Not to mention the flights within the States (including from the mainland to Alaska and the mainland to Hawaii), or throughout Indonesia, or with my newborns from Singapore to Indonesia.
But this weekend I've got my growing list of tips from friends and from hard-learned experience to help me make the trip from the States back to Indonesia.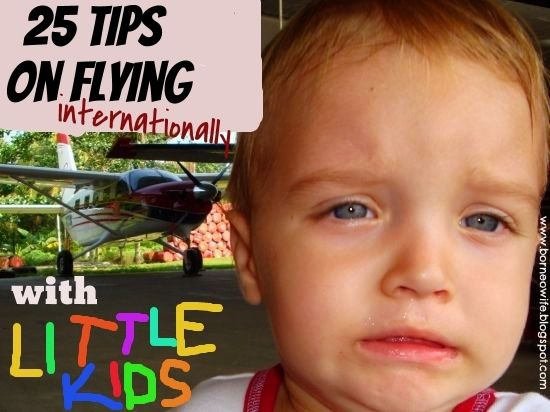 1.
Bring new toys and maybe even wrap them. Then pull them out at regular intervals along the way for fun surprises.
2

.
Let the older kids carry or roll their own small backpacks.
3.
Pack enough for the trip (enough diapers, changes of clothes, a couple extra blankets, some new toys and few snacks) but try not to over-do it because you will have to carry and keep track of all your carry-on stuff and your kids.
4.
Bring a few kid-carrying options, especially for the little ones. Like a sling (light and very packable) for that sleeping baby that you don't want to wake as you walk through customs; or a front baby carrier for hands-free handing over of passports and
that very light umbrella stroller can give that toddler a place to doze during layovers.
5.
Double check with the airline to make sure your family is seated as close together as possible. You don't want your 3-year-old sitting all by himself several rows back, or you with the baby while hubby and older kid are on the other side of the plane.
6.
On those long journeys, put your kids in their pajamas when it's an appropriate time to "go to bed," give them their favorite stuffed animal or blanket and get them set up in a sleep spot.
Then sleep when they sleep, even if you're really excited about the movie you're trying to watch
. You don't know how long they'll sleep or what is ahead. Get your rest when you can.
7.
Consider asking the airline for bulkhead seating to allow your children a little more area to play.
8
.
Walk the aisles. With the crying baby, with the restless toddler.
9.
Pick your battles. I find my kids don't like to eat much on those long airplane rides. They're usually more tired than hungry. I don't force them to eat at the expense of them feeling content or rested.
10.
Bring a few favorite, familiar snacks for the kids, but focus on more of the packaged kinds—crackers, goldfish, etc. You usually can't bring fresh fruits, cheeses and meats through customs. You might be able to bring packaged pureed baby food (applesauce, etc.) through customs if you ask real nice (but it might still end up in the trash.)
11.
Bring their favorite sippy cups, full of water, as many airports will allow you to take those through security these days. It's nice to have a drink all ready to go for them when the plane takes off and ears start hurting with the pressure.
12.
Bring a few extra changes of clothes for yourself, just in case there are accidents or sick kids.
13.
A week or so before your trip, avoid interactions with sick people or big groups of people (like nurseries, play groups). Bouts of sickness on those long flights makes the trip much more grueling.
14.
Give your kids vitamin C drinks (or eat more Vitamin C rich food) every day for several days before your trips to boost their immune system and help to prevent sicknesses on the flight.
15.
Let your kids (and you) have the time to recover from jet lag.
Don't plan much for those days before and after your trip to allow for some extra rest time.
And be patient with your kids as it will likely take several days for them to make the time switch in their new place.
16.
Know that whatever you bring on the airplane could get lost under a seat. So, if your kid needs his special blanket or stuffed animal, make sure you don't leave it behind on the last airplane or have a replacement on hand.
17.
Book a room in the hotel for those layovers lasting more than four or five hours. Consider routing your layovers through airports that have hotels right in the airport.
Many of those airport hotels allow you to rent a simple room for short periods, like for six hours, which could give your family a chance to catch up on sleep.
Request a crib or extra beds ahead of time if you need them.
18.
Use your technology…whether it's the individual in-flight movies on bigger airplanes, or your tablet or computer or portable DVD player, let your children watch or play games.
19.
Have a friend or niece or sibling or parent that could join you for the trip? Consider bringing along a helper, even if you're also traveling with your spouse. The more adults to help with the kids, the better.
20.
Talk with your spouse or traveling helper ahead of time about responsibilities. Consider dividing children or tasks. Like maybe you primarily take care of the baby, while hubby takes the 3-year-old and 5-year-old. But also include the option of switching it up to give your other kids some mommy time and give yourself a break from the baby.
21.
Check the baggage allowances for each of the airlines you take. Even if your international flight gives you two checked 50-pound bags a person, the domestic airline you take once you arrive in a country may only give you one free 20-kilogram bag.
22.
Keep all your important papers, documents, passports, etc. in a sealable plastic folder of some sort for easy access.
23.
Don't let your kids see your fear.
Ahead of time, play up the trip as the adventure that it is.
Make every part of the journey sound special and fun—airplane movies, special foods on their own tray, a new airport with fun moving sidewalks, etc.
24.
Ignore the looks. As you're walking your crying baby up and down the aisles, don't worry what the other passengers are thinking. I've found most other travelers are gracious—either they've been where you are, or they're just glad that they aren't. But even if they give you a dirty look or make a comment, your job isn't to please them anyway. It's to get your kids and yourself through the flight.
25.
Once you have your trip planned and your bags packed,
try not to think about the journey ahead no matter how worried you are about it.
Get your rest. Enjoy the place you are. Say your goodbyes as well as you can.